McQueen, A Bag, & The Humane Myth
Alexander McQueen's nineteenth-century aristocracy inspired Fall 09 collection is handsome, no doubt. Even the models' makeup made them appear to be walking out of old, sepia photographs. While the garments were technically gorgeous -slender suits, jackets and coats with utilitarian embellishments, and just enough decoration - the sheer amount of fur, leather, and wool used to make them puts Alex's lack of accountability and textile resourcefulness in the same century he is trying to depict. Can you image how amazing this collection would be if it were made from organics, recycled fabrics, and animal-free materials, but looked the same? It would be visionary. Sadly, we are almost a decade into the 21st century and we still have designers like McQueen who can't seem to combine their amazing talent with any vision for a sustainable civilization or future where we don't enslave and torture animals for textiles. Can someone get this man an eco-fabrics directory?
"Humane" meat and dairy?  HumaneMyth.org aims to take on the greenwashing behind many of the producers who want you to think they are killing with kindness.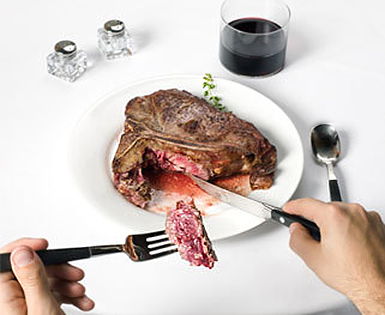 "Humane myth. An idea being propagated by the animal-using industry and some animal protection organizations that it is possible to use and kill animals in a manner that can be fairly described as respectful or compassionate or humane."
Bourgeois Boheme's Callum bag is the perfect courier. Faux leather, canvass, and handsome striped lining!