Vegan Arm Wrestlers, Recyclable Belts & Dudes Who Speak Up
1. Rob Bigwood is a professionl arm wrestler. That's right, and he's vegan. Rob is a 26 year old Brooklynite who has been winning titles and making a name for himself in the arm wrestling community. Watch out for this guy, and for my interview with him soon!
[youtube http://www.youtube.com/watch?v=jcD20GhWFO0]
2. Owain Yeoman and Jamie Bamber are only two of the Discerning Brutes that PETA has featured in their recent campaigns. Jamie, who plays Lee "Apollo" Adama in Battlestar Galactica is calling attention to the use of bear-fur on the hats of the Royal Guards in the UK. Owian, star of The Mentalist, is featured in a vegetarian testimnial ad, and his video has an eloquent expression of why this dude is veg.
These two join the ranks of other awesome guys who have done PETAs classic campaigns like Casey Affleck,  Wilmer Valderrama, Joaquin Phoenix, Fred Willard, Carey Hart, Mickey Rourke, John Salley,AFI's Davey Havok,  Ami James, Tito Ortiz, Black Sabbath's Geezer Butler, Wu-tang's Masta Killa, Bill Mahr, Kevin Nealon, David Cross, Trent Reznor, and others....
These guys rock, and you should check out their videos with PETA:
[youtube http://www.youtube.com/watch?v=qskHxSKdmJg]
[youtube http://www.youtube.com/watch?v=9Mok7LcRcAc]
3. Custom Vegan Seaks? That's right, artist Tony Price will make you a pair of custom-painted Vans at his Etsy shop!
4. Non-Silk Ascot from Jaanj. Don't act like you never considered wearing an ascot. You can make it rock-n-roll, and you know it.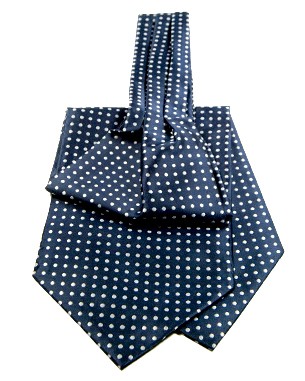 5. Tie-Ups makes recyclable belts. The color combos will make you trip, but the facts that you can stick these Italian-made accessories in the recycling bin, and that there's no animal products is great! Tie-Ups won't go off in a metal detector, they are weatherproof, hypoallergenic, and just really cool!  $89 at Nordstrom
6.  Check out FRESH: New Thinking About What We're Eating[vodpod id=Groupvideo.2563762&w=425&h=350&fv=]